Memorial Day and cookouts go hand-in-hand. But you don't need to indulge in unhealthy recipes simply because too many less-than-ideal options grace the table.
Rather than depriving yourself, I have a cool gift for you! Happy Memorial day to all!
My husband, Bret, (also known as the Hangry Chef) and I came up with some yummy, healthier versions of your cookout favorites. AND they're 131 Method approved!
Sneak Peek at our Healthier Memorial Day Recipes
Chicken Lettuce Wrap Tacos

Cadillac Salsa

Butternut Squash Kale Miracle Noodle Salad

Bret's Sweet and Crunchy Brussels Sprouts

Protein Style Turkey Burger

Flank Steak with Sweet Potato Hash

Dark Chocolate Cranberry Truffles

Fresh Raspberry Watermelon Cocktail
PLUS! We include where to find some of the KEY ingredients and special discount coupons from some of our favorite companies including: Miracle Noodle, BulletProof, Nikki's Coconut Butter, ButcherBox and Thrive Market.
Not only do these recipes look AND taste great, but you can enjoy your BBQ without the guilt (or next day bloat).
This post contains an affiliate link.
‪CLICK HERE for your Memorial Day themed recipes!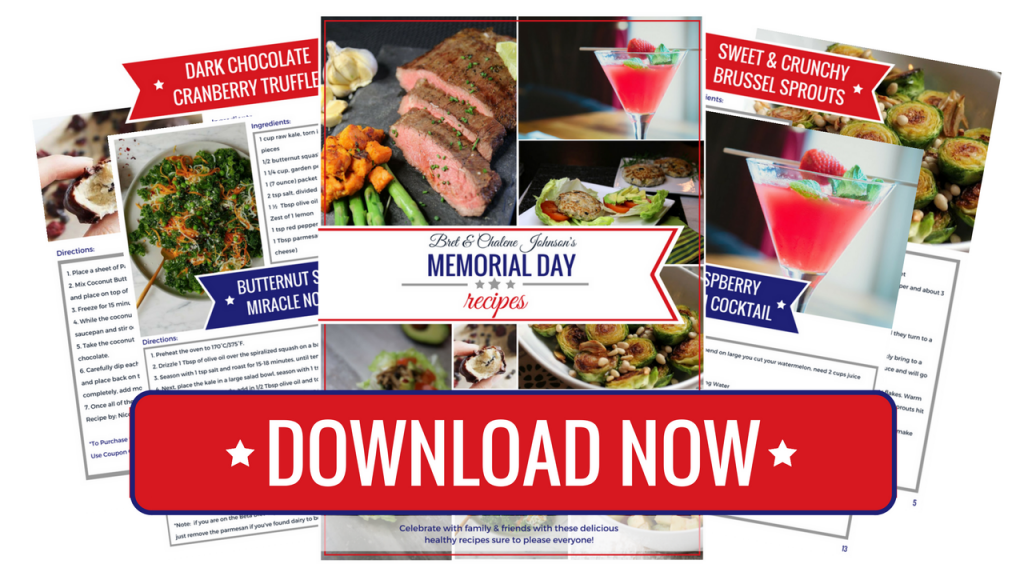 And don't let summer cookouts, vacations, Memorial Day or a new routine derail you…stay on task with all of your goals (health, fitness, finances, business, relationship, faith, etc.) with the SmartLife PUSH Journal all-in-one planner packs.  They include daily trackers to help you track your workouts, diet, and water intake; PLUS, they take you step-by-step through breaking big goals into easy, doable steps you can check off each day without ever losing motivation. Make this the BEST summer EVER with the SmartLife PUSH Journals!
And because I love you, check out a few of our fun (and healthy) holiday recipes from our blog…
~Chalene