Time for a life hack – closet organization and closet makeover ideas!  These tips and tricks to organize your closet eliminate the chaos you experience in the morning.  This organization system is what you need to create a closet where you know exactly where everything is!  Home organization often feels intimidating, but if you follow these steps, you'll complete your closet organization quickly and efficiently.
It's Time
Project Smart Closet Makeover, begins NOW! There is definitely an order you must follow, so make sure you take notes or save the steps below to your phone!
It is so important that you start your day with clarity The first thing you do in the morning is get dressed… or at the very least pick out what you're going to wear. So if your closet is a complete disaster – you can't find things. With clothes everywhere and nothing organized – you start your day off frustrated. AND you waste your precious time!
There are tools for this job. They are all optional, but they make a HUGE difference!
Closet Makeover Preparation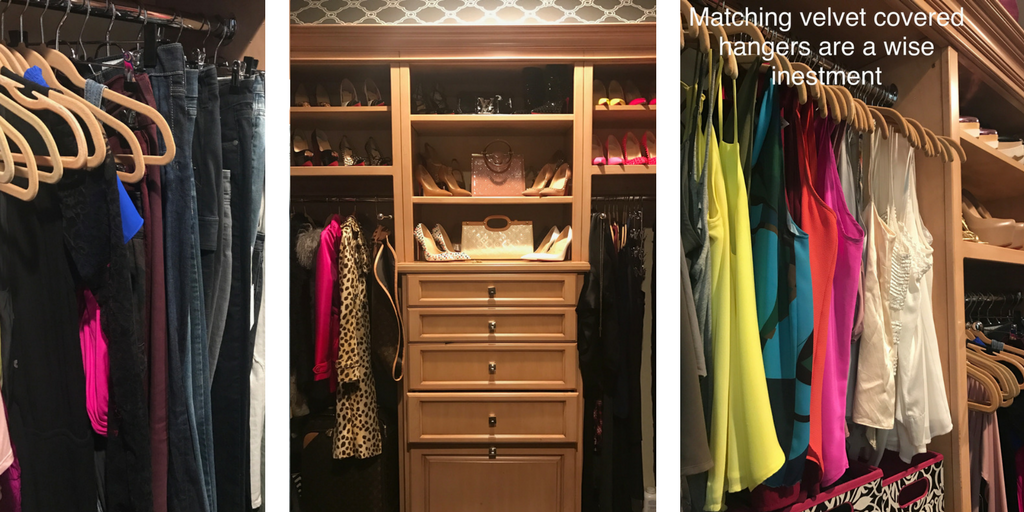 Matching Hangers
I know this might not seem like a must…. but it is! I understand that this is an investment, but I personally believe that it is one worth making.
Huggable Hangers
These will change your life! You can get these on Amazon. Count how many hangers you are currently using, reduce that by 25%, and that's how many I'd suggest purchasing. I highly recommend buying the color nude. Here's why. Because I know eventually you're going to want these in every room in your house, and if you pick pink for your hangers, and blue for your partner, then it just becomes a mess. SO keep it simple and keep it nude.
Rolling Hanging Rack
This is a great investment! You will use this WAY more than you know! It keeps clothing off the floor and off the bed.
Hanging Shoe Rack
This is where your workout gear, scarves, and maybe socks will go. You might also want to get one of those hanging cubbies. It's larger than the shoe rack and I love storing my sweats in these!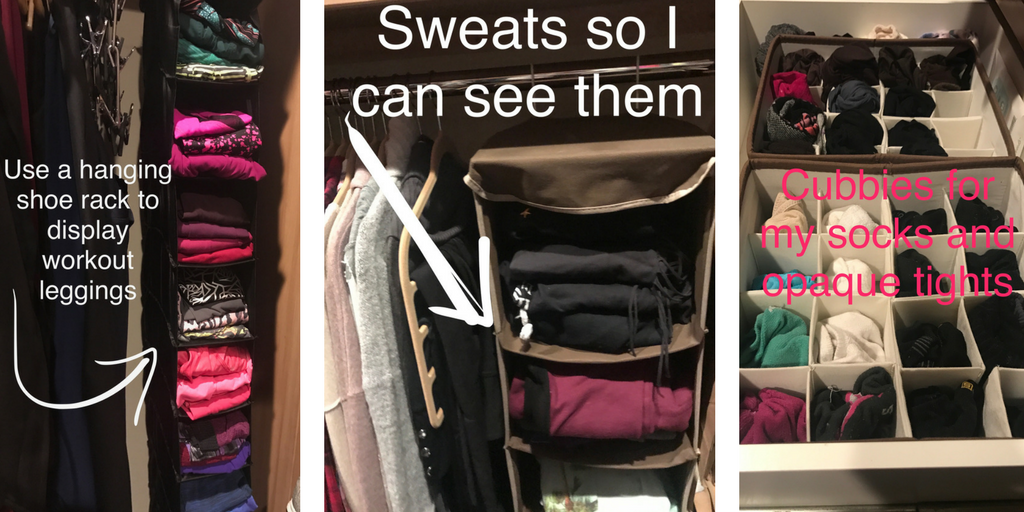 Steps you need to follow! 
1: Count how many hangers you currently have in your closet.
2: Make a decision on what type of uniform hangers you are going to replace those hangers with.
3: Order rolling racks and hanging racks for inside the closet.
4: Schedule time to dedicate to cleaning out your closet – approximately 6 hours.
5: Listen to the podcast!  Links are below to listen to this 2 part series!
It's time to take your closet organization to the next level. Get excited, because once your closet is organized, I can almost guarantee you will feel more peace and excitement about getting other areas of your home cleaned up!
Now that you know what you'll need, lets dive into how to go about this!
Closet Makeover Time!
Step 1 – Take Everything Out of your Closet
Do not sort anything yet! I repeat… do not sort anything! I simply want you to pull everything out and set it somewhere near by.
Hang all your clothing on the rolling rack. If you opted out of getting the rolling racks, then lay your clothing out so that you can see everything.
I want to make sure I'm clear here… take EVERYTHING out of your closet. Everything! Every shoe, every box, ever sock… everything.
Step 2 – Go Through your Items and Sort
Go through every item and sort them according to the following:
Throw away – there are certain items we own that have holes and are in a condition in which organizations will not accept, so save them the time and man hours and just put it in the trash.
Donation or Gifting – these are items either you can give to a group of friends to dig through, or can go directly to a charity.
Maybe – this pile better be small people!!! Our end goal is to keep very few items, items of quality, and items that you absolutely love the way you look in them – so this pile is for the undecided pieces.
Yes – the YES pile contains the items of clothing you definitely want to keep! These are pieces that you love love love and wear all the time.
Step 3 – Transfer Yes Pile to Huggable Hangers
Take your yes pile and transfer those items of clothing on to your huggable matching hangers that I told you order in Part 1. Make sure you group together types of clothing. So for example, put all of your sweaters together in an area, your pants in one area, your suits in one area, etc.
Along the way, think about what hasn't worked up to this point, and ask yourself what do I need to add to make my closet more efficient? This is different for everyone. Is it hooks? More hangers? Shelves? Just think about what would be ideal, and make it happen. And remember the goal is for your closet to be as simple as possible.
Step 4 – Separate all of your throw away items
Maybe place them automatically in a trash bag so that you aren't tempted to pull them back out and add them to a different pile.
Step 5 – Move your Donation / Gift Items
Take all of your donation / gift items and place them at the end of your rolling rack. So keep them separate from your yes items and your maybe items.
Once you've sorted through everything, put everything that you're keeping back in the closet. Display things so that you can see them!
Organize your items by type of piece, and then by sub categories such as length.  So for example, for shirt you'll have long sleeve, short sleeve, no sleeve, strap, halter all separated out and hung together.  Next, within the sub categories hang from either dark to light or light to dark.
I want to see your revamped closet! So if you are on Instagram, tag me and use the hashtag #SmartCloset. I'm searching for closet organization!
FULL PODCAST Part 1 below

FULL PODCAST Part 2 below

Recommended books:
– The Magical Art of Tidying up
– All Too Much – Peter Walsh
~Chalene